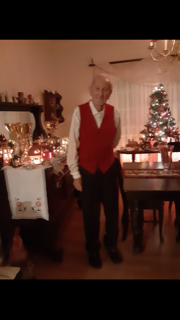 Robert D. Brickey, 90
Click link to view Robert's Memorial Video
Robert D. Brickey 90, of Green Cove Springs, FL passed away Saturday, September 9, 2023.  Mr. Brickey was born in Kentucky and had been a longtime resident of Florida.  He was known for his craftsmanship in furniture and cabinet building and took pride in his talent for over 40 years as well as working in his yard.  Robert was a member of Russell Baptist Church and enjoyed participating in various activities and eating brunch afterwards.
Mr. Brickey married his wife, Beth, on November 20, 1994, and is also survived by three children, two stepdaughters, four granddaughters, one grandson, one great granddaughter and his dogs.
Memorial Services will be held 11:00 Thursday, September 21, 2023 in Russell Baptist Church with Pastor Chad Weeks officiating.
Arrangements are under the care of Russell Haven of Rest Cemetery, Funeral Home and Cremation Center, 2335 Sandridge Road, Green Cove Springs, FL  32043.  Family and friends may share their condolences at: www.RHRFH.com 904-284-7720