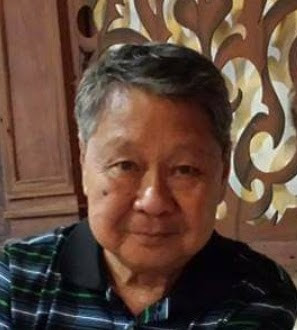 Prisciliano C. Cuevas, 82
Prisciliano C. Cuevas, 82, of Fleming Island, Fl, joined our Creator on Thursday, February 18, 2021 at Orange Park Medical Center with his two daughters and son in law by his side.  Due to pandemic, two other daughters and his wife were unable to be with him physically.
Prisciliano was the second of five children, born in 1939 at Pampanga, Philippines to Maria Cuevas and Querubin Cuevas with siblings late Msgr. Russ Cuevas, and three sisters. He helped his father's business, renting out bicycles and running a small carpentry shop. He graduated high school at Guagua National College (GNC).  He received a scholarship by joining the College band and graduated B.S. Accounting at Far Eastern University, Manila, Philippines. He worked at Basey Woods for the San Victores' in Quezon City while supporting his siblings' schooling.  He met Iluminada after college at a town's college graduate celebration.
Prisciliano and Illuminada married in December 1967, eventually settling in Marikina in 1973. They were blessed with four beautiful daughters: Cherry, Caroline, Cristine, and Cecile, his pride and joy. He was a good provider and made sure his children received a good education. During those times, he worked in Quezon City, Surigao, Bulacan, and Tokyo, Japan.
The Cuevas family immigrated to the United States in 2005 to be with their daughters and grandchildren. Prisciliano lived with his wife in Chicago, Bay area California, and in Jacksonville, FL.
Pris was a man of many words; he was always making jokes. Pris was honest, full of integrity, loyal, and a generous friend. He was a disciplinarian and a fair person. Pris provided words of wisdom to his children and grandchildren.
During his young adult life, he was active in karate, basketball, biking, and joined the local bowling league. He loved playing billiards, competing often and eventually winning second place in the billiard tournament in Clay County, FL. He was an avid L.A. Lakers, Ginebra and Golden State Warriors fan.
Pris lived a full and colorful life.  He was loved dearly by his friends, neighbors, and family, and will be missed by all. We are comforted by knowing that he is reunited with his eldest brother, late Msgr. Russ Cuevas, and his parents.
Pris is survived by his wife, Iluminada, daughters and son in laws, Cherry and Ramil, Caroline and Tim, Cristine and Rainier and Cecile and Eric; his grandchildren Marius Margot, Toby, Amanda, Lance, Royce, Madison, and Jacob; his sisters, Lourdes, Natalia and Brigida.
The family would like to express their gratitude to all of Pris' friends and classmates who were devoted supporters through happy and rough times; the doctors, nurses and staff at OPMC MSICU, stepdown and telemetry units who held his hand when the family couldn't be there at his side.
Despite the transience of life, the family of Prisciliano Cuevas will keep the memories expressed in this obituary and his spirit alive in their hearts.
A Celebration of Life will be held 11:00 AM Tuesday, February 23, 2021 in the Chapel of Russell Haven of Rest.
A Memorial Mass will be held 10:00 AM Saturday, February 27, 2021 in Sacred Heart Catholic Church.  Burial will follow in Russell Haven of Rest Cemetery.
Arrangements are under the care of Russell Haven of Rest Cemetery, Funeral Home and Cremation Center, 2335 Sandridge Road, Green Cove Springs, FL  32043.  Family and friends may share their condolences at: www.RHRFH.com 904-284-7720