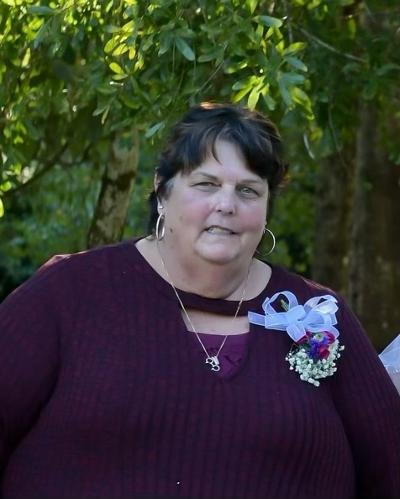 Paula Cartwright Johnson, 67
Click Here, to view the memorial video for Paula Johnson.
Paula Ann Cartwright Johnson passed away in the early hours of December 31, 2022. She was born in Jacksonville, Florida on October 3, 1955 to the late Milford Cartwright and Gladys Davis Cartwright. The eldest of three sisters, Paula married a career navy man, Otto (OJ) Johnson in August of 1972. Paula and OJ raised their two children near various naval bases in the early years and then in a home of their own near the Cartwright family farm in Green Cove Springs as OJ rose to the rank of Master Chief.
She worked for the Brown and Cartwright Ace Hardware Store in Green Cove for many years and was co-manager of the store after her father's retirement.
A never failing source of support to her parents, siblings, children and grandchildren, Paula was preceded in death by her parents, Milford and Gladys, and her sister, Diane Jones. She is survived by OJ, her husband of 50 years, her children, William Richard Johnson (Allison) and Amanda Altic (Jason), her sister, Janice Zelinka (Ronnie), and her grandchildren, Dustin, Hayley, and Alissa Johnson and Hayden and Adalee Altic as well as nieces Jessica Loos (Daniel) and Sarah DeMay and nephews, Joshua Jones (Elizabeth), and Christopher and Stephen Zelinka.
Paula had a terrific sense of humor and a great love for all her family including her many cousins, great-nephews and nieces. She loved the family farm with its ponies and peacocks, donkeys and cows, and her 2 dogs, Chloe and Annabelle.  Paula was one of Disney's biggest fans, and she thoroughly enjoyed camping trips with her family.
She was a wonderful wife, mother, sister, cousin, aunt, niece, friend and co-worker. No one ever had to ask twice when they needed any help or support she could give. She will be greatly missed by the countless people whose lives she touched.
Celebration of Life will be held Friday, January 6, 2023 at 11:00 am at First Black Creek Baptist Church, 3904 State Rd 16 W, Penney Farms, Florida.