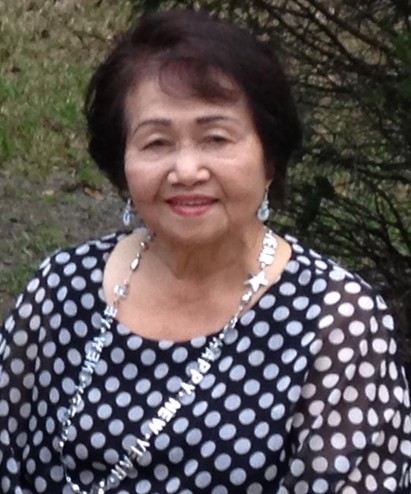 Nenita Sarona Beliso, 86
NENITA SARONA BELISO
MANY FACETS. Beautiful, courageous, cheerful, sweet, caring, smart, hardworking, tough, …
Nenita Sarona Beliso, age 86, born September 7, 1934 joined our Creator on January 31, 2021.  She is predeceased by spouse, Jesusito Medina Beliso, and by her parents Jose Sarona and Irene Olayres, and siblings Estelita, Salvador and Ernesto Sarona.
She was born of the Silent Generation in Lucena City, Philippines.  Her courage is tested at young age of 5, as her family combatted with the outbreak of Pacific WWII. She survived life in a country besieged by the Japanese regime and until age 11, when she experienced the cheers of war Liberation under the American regime.
At sweet 16, she married Jesusito Medina Beliso.  She gave birth to eight(8) Baby Boomers namely Luisito, Lorna, Nelson, Ellen, Susan, Gerardo, Ariel, and Zaldy. She also did parenting for four (4) half-children of her pre-deceased spouse, namely Evangelina, Alicia, Ruperto (dec.) and Joselito(dec.)
As a full-time mother, feeding a big family is a bold duty. She goes to market every other day, and cooks all day casserole to casserole for three(3) regular meals, plus, deserts and snack foods. She is so caring that meal portions are reserved for those who are absent during meal times.  She's great at cooking special menus like adobo, callos, kare-kare, spring rolls, caldereta, asian pancit, salad, and leche flan, to name a few. Yes, everything else, find on google. Wondeful since her children helped in the kitchen they too learned to cook.
During holidays like Christmas and local town feasts she gets helpers to cope with higher volume of food to cater family, visiting relatives and friends. She highly values celebration of birthdays that despite poor economic situations, for every family members' birthday she will play birthday songs and makes sure there is Asian "pancit" (noodles) on the table for long life, with, birthday cake and candles to blow.
Health is to her also as essential. During critical health conditions of her children, she can run  barefooted to get public transport to rush a child to emergency, since her spouse who was a driver is always away for trips. Every sick child is cared for with aggressive diligence. When her children started raising family, she advised them that if the condition does not improve, do not hesitate to find another doctor, until treatment is attained. With her 8 children, she did encounter serious near death illnesses for which she showed extreme perseverance of attention and diligent care.
Housekeeping and hygiene for her tiny apartment is important.  She loves to use artificial flowers for less costly decorations. Bounty file of clothings and linens are extremely cleaned and starched for crisp ironing and folding. Her children are trained well to help this volume of house chores.
Education is important for Nenita. She with her spouse, repeats to their children-  "study well, you are the hope of the future." She feels so elated and fulfilled when her children receive school awards; always excited for those occasion when she gets on stage for the pinning of awards ceremony.
Religious life is a strong part of her daily life, way back from the Philippines, and wherever she may be. During critical illnesses of her children, she walks on her knees to the altar for God's mercy and grace. Extremely bad weather, we kneel down to pray for protection. She goes to early daily mass as time allows, attends the Mother of Perpetual Help Wednesday Novena, Christmas Novena Dawn Masses and strict Holy Week observance of fasting and abstinence.  She encourages her children to go with her to Church on top of the community block rosary prayers. For this reason, the boys became altar servers in the St. Ferdinand Cathedral located a block from our house. She is also an associate member  of the Legion of Mary Association in her St. Matthews Parish Church, Chesapeake, Va.
Despite hardships of daily house chores, Nenita is personable and conscious that she and her family look well.  She dresses with carefully matched color of bag and shoes, accessories and hair styles up-to-date with latest fashion.  Nenita loves ballroom dancing like cha-cha and tango with her 'comadre' and 'compadres' during social gatherings.  As well she's skilled with limbo- rock and line dancing. She keeps herself slim and balanced with raised leg cycling exercises in bed and roller skating. During her 75th birthday, she entertained everyone by leading line dancing. She also loves to sing even while doing house chores and one of her old favorites is "Dahil sa yo". (Because of you)
In 1975, at age 41,  she braved immigrating to USA away from her family, to join her eldest son Luisito who first went there for work.  From there she took on employment jobs to live by, saving amounts to use when she petitioned all other children one at a time to live and work for fruitful lives.  Occasions for vacations and family reunions also helped her local and international travels for  many places like Europe and Canada.  Though not spared from family problems, God is good and life went well for Nenita and her children.
However, the life road block for her health came as advanced age caused her arthritis causing her limbs to weaken that progressed to severe gout and relevant acute pains.  Other age-related medical conditions gave way for bunion, eye cataract and other surgeries. Then, blisters started to disturb her feet and legs. These all recurringly occurred and she was later diagnosed with Bullous Pemphigoid, an auto-immune disorder for which she was prescribed prednisone plus other medications due to complications.
Nenita started frequent trips to hospitals and rehab. On the occasion of her 85th milestone birthday, she's using walker and sadly, no more dances to show.  An event occurred in late December 2019 that required her long hospital confinement at Chesapeake General Hospital.  This caused her loss of ambulatory. Her continued desire for recovery and the continuing support of her therapists help her regain strength to get out of bed independently with the use of walker restored from June 2020 to early August 2020.
One morning, a serious weakened condition came  in late August 2020 that had her lining up at the ER due to a Covid-19 full-housed Sentara Leigh Hospital. She was diagnosed and treated for Sepsis from a urinary infection. That preceded a week before her 86th birthday, Sept 7,  2020. Sadly this is her most isolated and uncelebrated birthday.
A day after her scheduled doctor visit on Sept 9, Nenita was again sent to hospital. This confinement progressed to other conditions giving her more stressful discomforts for until October 4, 2020. This auto immune system illness that medical science have left out for generations without real cures gave her continuing distress and challenged assisted living situations. Her children supported most urgent private pay care from October to December 12, 2020,  but, economic difficulties made arrangement unsustainable. Another suggestion convinced her to move-in to her other son to Florida.
On December 12, 2020, she  moved to Florida and decided to stay longer. Her new living conditions proposed health improvement, ability to move around on wheelchair, refreshing wheelchair baths, customary home cooked meals, and a lot more. Her prayer to  stand up again continued with Rosary Prayers, at times over the phone with distant children. When she's weak,  her constant short prayer is "Jesus, I Trust in You."
However, her health issues started to recur by mid-January 2021.  Nenita needed hospitalization on January 22, 2021 for inability to eat due to mouth sores, chronic pain when turning her came from blisters and wounds around her back and sides. Pain medicines made her sleep modes consistent, and, she wakes up with hallucinations that disturbed her, repeatedly wanting to be home. While she showed some improvements in a few days, she reverted back for aggressively refusing  standard hospital treatments.  Her medical situation had a turnaround. Chronic pain medicine management were given her and until  January 29 due to systemic infection, she was moved to hospice care.
The sad day that worried her children came on January 31, 2021, when Nenita joined her Creator at early 2 AM dawn. This dedicated and faithful mother is bereaved by her treasured children and their families of 20 grandchildren and 21 great grandchildren, all of blended Generations  X ,Y, Z  and Alpha.
In deep sorrow, we invite you to please join us for
Thanksgiving, Final Church Rites, Celebration of Life
 for our very own acclaimed and most worthy of awards mother
NENITA SARONA BELISO
Officiating Priest: Msgr. Simon Peter Ignacio, S.T. L
February 6, 2021  * Saturday,  1 PM
Russell Haven of Rest Funeral Home,  2335 Sandridge Road
Green Cove Springs Florida, 32043 USA 
"Ma, you are our most beloved Champion!
May you rest in the Glory of God's Divine Mercy and Peace! Amen!"
Written by: Lorna Beliso-See & Ellen Beliso-Ranas