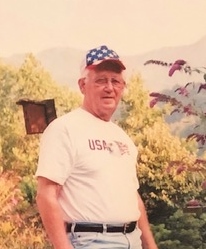 MSGT John D. Thornbury, USAF (Ret.), 85
MSGT John D. Thornbury, USAF (Ret.), 85 of Fleming Island, FL passed away Monday, February 3, 2020.  Mr. Thornbury was born in Augusta, Kentucky to the late John D. and Josephine Thornbury and retired from the USAF after a 20 year career.  Following his retirement, John worked in the Miami/Fort Lauderdale area as an office manager in accounting for Coca Cola and Chrome Aggregate before moving to Burnsville, North Carolina.  While living in North Carolina, he was a member of Higgins Memorial Methodist Church and after moving to Fleming Island, he attended River Christian Church.  John enjoyed his church family, playing golf, and spending time with his family and friends.
Mr. Thornbury was preceded in death by his son, David Thornbury, brothers, Dexter, Charles, Harry, Raymond, and Edwin, and his sister, Alice.  He is survived by his wife of 65 years, Barbara Thornbury, children, Pam (James Wishion) Lukomski, John (Kirsten) Thornbury, and Mark (Becky) Thornbury, brother, Ronald (Phyllis) Thornbury, sister, Mary Alice Thornbury, eight grandchildren and twelve great grandchildren.
Funeral Services will be held 11:00 AM Thursday, February 6, 2020 in the Chapel of Russell Haven of Rest with Pastor Nathan Freeman officiating.  Burial will follow in Russell Haven of Rest Cemetery with Military Honors by USAF.  Visitation with the family will be from 10-11:00 AM Thursday.
Arrangements are under the care of Russell Haven of Rest Cemetery, Funeral Home and Cremation Center, 2335 Sandridge Road, Green Cove Springs, FL  32043.  Family and friends may share their condolences at: www.RHRFH.com 904-284-7720