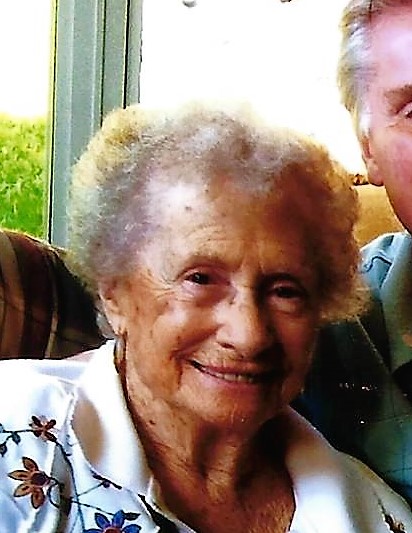 Margaret Elizabeth Higson, 90
Margaret Elizabeth Higson, age 90, passed away peacefully at Westminster Woods on Julington Creek, St. Johns, Florida on Tuesday, May 9, 2017.  She was born on September 7, 1926 in Vandergrift, Pennsylvania, and lived there until about the age of 10 when she emigrated with her parents, Edward (Ted) and Emma Alldred, her older brother, Jack (Royal Marines), and her younger brother, Edward (U.S. Air Force), to England.  Her parents had originally immigrated to the USA from England after World War I.  Margaret was married to the love of her life, Arthur (Art) on December 29, 1945, while he was in the Royal Navy and stationed in Malta.  He preceded her in death on May 30, 2003.  She was also preceded in death by her parents and brothers, with her brother Jack dying in Antwerp, Belgium during World War II. 
She is survived by two sons, Jack (Fran) Higson of Green Cove Springs, Florida and Paul Higson of Indian Rocks Beach, Florida; four grandchildren, Kristin (Chris) Hughes of North Arlington, New Jersey, Eric Urrutia of Manhattan, New York, Kimberly (Josiah) Hamilton of Green Cove Springs, Florida, and Jack Higson of Green Cove Springs, Florida; four great-grandchildren, Lucas, Owen and Nathaniel Hughes, and Isaac Hamilton; sister-in-law, Brenda Murray of St. Helens, England; cousin, Iris Wood of South Plainfield, New Jersey; and several nephews and nieces. 
After attending schools in the suburbs of Manchester, England, she worked in office clerical positions in that area until she, husband Art, son Jack, her parents, and her brother Edward immigrated to the northern New Jersey area in 1949.  She lived for many years in Kearny, New Jersey before moving to Clearwater, Florida and then to Jacksonville, Florida.  In New Jersey her work included Muntz TV and the IRS, and she volunteered in many organizations including West Hudson Hospital and leadership roles in the Kearny PTA.  During her later years, she was supported and cared for greatly by the Riverside Presbyterian Apartments, Riverside Presbyterian House and then the Westminster Woods Health Center with the assistance of Community Hospice.  She was a member of Riverside Presbyterian Church. 
A visitation will be held at Russell Haven of Rest, 2335 Sandridge Road, Green Cove Springs, Florida on Friday, May 12, 2017 from 6-8pm.  A celebration of Margaret's life will be held on Monday, May 15, 2017 at 11am at Riverside Presbyterian Church, 849 Park Street, Jacksonville, Florida.  In lieu of flowers, the family requests donations be made in Margaret's memory to either Riverside Presbyterian Church, Westminster Woods, or Community Hospice of NE Florida. 
Arrangements are under the care of Russell Haven of Rest Cemetery, Funeral Home and Cremation Center, 2335 Sandridge Road, Green Cove Springs, Florida 32043.  Family and friends may share their condolences at www.RHRFH.com 904-284-7720