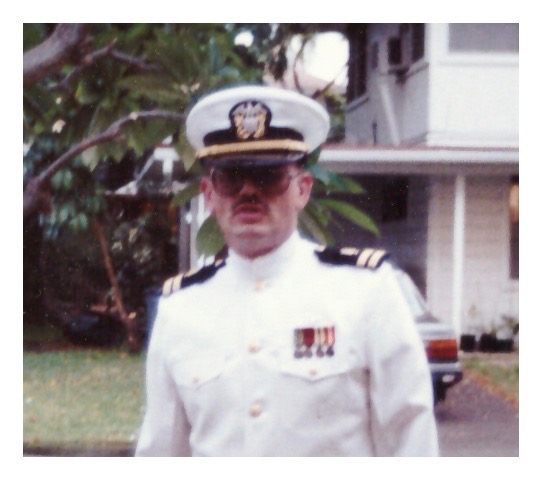 Lt. John F. "Jack" Mayo, USN (Ret.), 68
Lt. John F. "Jack" Mayo, USN (Ret.), 68 of Green Cove Springs, FL passed away Monday, August 7, 2017.  Jack was born in Sunbury, PA to the late Lawrence and Teresa Mayo, grew up in Pennsylvania and New York and moved to Clay County in 1980 from Norfolk, Virginia.   He retired from the US Navy in 1991 where served as a corpsman aboard the USS Spadefish (submarine), USS Forrestal, USS Saratoga, and USS Willamette where he was well respected.  As a decorated veteran, "Doc" provided care for many fellow sailors during his distinguished naval career.
Following his retirement, Jack worked as a physician's assistant for Oceanway Family Practice, until his retirement in 1999, where he saw patients in many of the Jacksonville area hospitals.  He graduated from George Washington University School of Medicine.  Jack was an avid reader who enjoyed spending time with his grandchildren in Orlando on vacations watching them have fun.  He was modest in his achievements and had a passion for a good prime rib steak whenever possible. His greatest achievement though was the love he had for his daughter and grandchildren.
Mr. Mayo was preceded in death by his brothers, Richard, Larry, Billy, and Tommy and is survived by his daughter, Darla (Marc Coutu) Mayo, brother, Mike Mayo, three sisters, Kathy Algerio, Arlene Willard and Barbara Giffin and three grandchildren, Rachel, Emma and James and along with many nieces and nephews.
Memorial Services will be held 2:00 PM Monday, August 14, 2017 in the Chapel of Russell Haven of Rest with Rev. William Hesse officiating.  Military Honors will be performed by the US Navy on the Eastlawn.
Arrangements are under the care of Russell Haven of Rest Cemetery, Funeral Home and Cremation Center, 2335 Sandridge Road, Green Cove Springs, FL  32043.  Family and friends may share their condolences at: www.RHRFH.com 904-284-7720