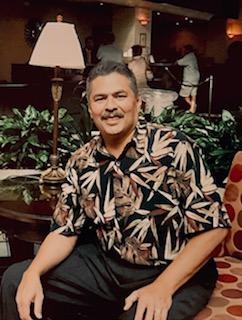 Joseph Anthony Beierly, 63
Joseph Beierly, 63 of Middleburg, FL/Welcome, MD passed away January 7, 2021 after a hard battle with covid. 
Joe was a proud veteran of the United States Navy.  He served his country proudly for 27 years retiring as a Senior Chief.  His OCD made him a great Operation Specialist which made him exceptional in his time in the Navy.  After his retirement, he majored in business and became a college graduate of Florida State College.  After completing that goal, he tried to sit still, but it wasn't in his blood (You can take a sailor out of the Navy, but you can't take the Navy out of a sailor!)  He decided to go back to what he loves and joined the Military community once again as a contractor for missile defense.  He achieved his life long goal of owning a fifth wheel and boy he loved his Ku'uipo!  
He was a family man all the way and loved spending time with his family, playing pranks, traveling and talking to anyone near him.  He never met a stranger!  But his proudest achievement was his 3 kids and his grandkids who made him our Papou.  Whether it was at sport events, graduations, ceremonies, school runs or field trips he was there supporting us all.  Always right in front and yelling so we would all know he was there. 
Joe is survived by his loving wife of 37 years, Ceal; kids, Justin (Lisa), Jacqueline (Tony), and Genevieve (James); grandkids, Kaydin, Kaleb, Konnor, Addison, James, Julie, Karah, and Jocelyn; his grandfurkids, Molly, Max, Cocoa; siblings, Pete Jr. (Ann), Andrew (Joanne), Frank, Ralph (Elizabeth), and George; and many many nephews, nieces, cousins, extended family and friends.  He was preceded in death by his parents, Peter and Genevieve; and brothers, David and Raymond.
Funeral services will be held at 11:00am Friday, January 15, 2021 in the chapel at Russell Haven of Rest with Doug Tackett officiating.  Visitation with the family will be one hour prior to the service.
In keeping with the CDC/COVID-19 guidelines, it is encouraged that attendees wear a mask.  If you are at high risk, feeling ill, or uncomfortable attending in person, please join the family's livestream on Jacqueline Carter's Facebook page.
Arrangements are under the care of Russell Haven of Rest Cemetery, Funeral Home and Cremation Center, 2335 Sandridge Road, Green Cove Springs, FL  32043.  Family and friends may share their condolences at: www.RHRFH.com 904-284-7720
 To view Joe's memorial video, click here.