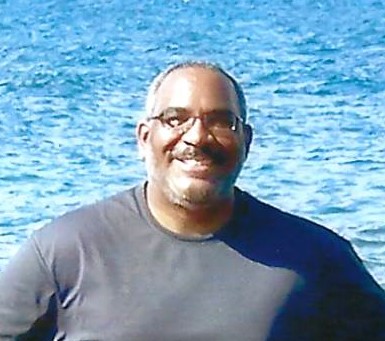 Ervin William Dampier, 51
Ervin William Dampier, 51, of Middleburg, FL passed away Sunday, October 21, 2018.  Ervin was born in Aguadilla, Puerto Rico to Aurea Garcia Dampier and the late Louis Dampier.  He spent most of his life in Ceiba, Puerto Rica and moved to northeast Florida about 26 years ago.  Ervin made a career in sales, most recently as a sales account manager for Team JAS, an aviation company.  He loved talking about airplanes and flying each day and enjoyed speaking with his foreign customers as he spoke four languages.  His love for planes and aviation was demonstrated through his attendance at Embry-Riddle Aeronautical University.
Ervin was personable and could talk to anyone.  He never met a stranger, which served him well at work and in life.  The words most often used to describe him are "just a good guy".
Ervin loved our military due to his father's military career.  He also loved Puerto Rico.  Being in the water, snorkeling, and spear fishing were some of this favorite things to do there while visiting family.  Ervin enjoyed reading and watching movies in his spare time.  He was a self-proclaimed sci-fi geek.  Ervin had a heart for families dealing with Alzheimer's Disease.  He attended group therapy sessions and was able to share his experiences with others to help them.
Ervin was preceded in death by his father, Louis William Dampier.  He is survived by his loving wife of 19 years, Tracy Hulion Dampier; his mother, Aurea Garcia Dampier; one brother, Louis (Diana) Dampier; one niece, Abbie Dampier; and many other family members and friends.
A memorial service will be held Friday, October 26, 2018 at 6pm in the chapel of Russell Haven of Rest.  Visitation with the family will be held one hour prior at 5pm.  In lieu of flowers, the family requests donations be made in Ervin's memory to the Alzheimer's Association, www.alz.org/donate.
Arrangements are under the care of Russell Haven of Rest Cemetery, Funeral Home and Cremation Center, 2335 Sandridge Road, Green Cove Springs, FL  32043.  Family and friends may share their condolences at: www.RHRFH.com 904-284-7720
Ervin William Dampier, de 51 años, de Middleburg, FL, falleció el domingo 21 de Octubre de 2018. Ervin nació en Aguadilla, Puerto Rico,  Sus padres, Louis William Dampier (fallecido) y Aurea Garcia Dampier. Pasó la mayor parte de su vida en Ceiba, Puerto Rico, y se mudó al noreste de Florida hace unos 26 años. Ervin asistió a la Universidad Aeronáutica Embry-Riddle y luego hizo una carrera en ventas, más recientemente como Gerente de Cuentas y Ventas para el equipo JAS, una Compañía de Aviación. Le encantaba hablar de aviones y volar, y lo hacía todos los días con sus clientes extranjeros, ya que también Ervin hablaba cuatro idiomas.
Ervin era agradable, humilde y amigable él no podía estar cerca del alguien sin que el estableciera una conversación y terminara ganando la amistad de esa persona, para el nadie era extraño. Esto le sirvió mucho en el trabajo y en la vida. Todos decían de él que era "un buen hombre".
Ervin amaba a nuestras Fuerzas Armadas debido a la carrera militar de su padre. También amaba a su patria Puerto Rico. Le encantaba estar en el mar, buceando y pescando con arpón fueron algunas de sus actividades favoritas cuando visitaba a la familia en Puerto Rico. Ervin disfrutaba leer y ver películas en su tiempo libre con su amada esposa. Él fue un amante de la ciencia ficción. Ervin tenía un corazón para las familias que enfrentan la enfermedad de Alzheimer, el cual su  mama tristemente es paciente. Asistió a sesiones de terapia en grupo y pudo compartir sus experiencias con otros para ayudarlos.
Ervin fue precedido en la muerte por su padre, Louis William Dampier. Le sobreviven su amada esposa de 19 años, Tracy Hulion Dampier; su madre, Aurea Garcia Dampier; un hermano, Louis Hipolito Dampier (esposa Diana); su sobrina, Abbie Charisse Dampier; y muchos otros miembros de la familia y amigos.
Un servicio conmemorativo se llevará a cabo el viernes, 26 de octubre de 2018 a las 6 pm en la Capilla de Russell Haven of Rest. La visita con la familia se llevará a cabo una hora antes de las 5pm. En lugar de flores, la familia solicita que se hagan donaciones en memoria de Ervin a la Asociación de Alzheimer, www.alz.org/donate.
Los arreglos están bajo el cargo del cementerio Russell Haven of Rest, Funeral Home and Cremation Center, 2335 Sandridge Road, Green Cove Springs, FL 32043. Los familiares y amigos pueden compartir sus condolencias en: http://www.rhrfh.com/ 904-284-7720