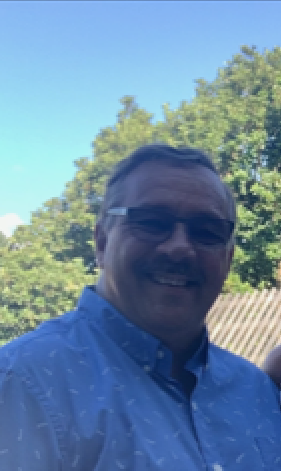 Eric Binderim, 65
Eric Binderim passed away after a brief battle with thyroid cancer on February 14, 2021.  He is predeceased by his Father, Robert C. Binderim, his Mother, Georgia Rose Binderim, his Sister, Cynthia Drake, and his daughter, Erika (Rosie) Binderim.
He is survived by his wife of 44 years, Stacy Binderim (who can't believe this is true even though I'm writing this), his son, Corey Binderim, his sister, Trisha Bazzell (David) and 5 granddaughters, (Sadie Rose Mack, his namesake, Bindy Rose Haydu, Chase Haydu, Bailey Binderim and Megan Binderim).
Eric and Stacy met in High School in Wichita, Kansas in 1973, prior to Eric joining the Navy in July 1973 as an Aviation Structural Mechanic (AMSAN).  They married in February 1977 and moved to Millington, Tennessee, where Eric taught "A" school with fellow instructor, Bill Thompson.  Bill and Kathie Thompson's family have remained lifelong friends to this day.
Following the "A" school tour, Eric moved the family to Pensacola for a tour with the Navy's "Blue Angels" from 1980 – 1983.  Again, making many lifelong friends who will unequivocally provide a true support system for Stacy.
Eric promoted through the enlisted ranks to Chief Petty Officer and was commissioned in 1987 as an Aviation Maintenance, Limited Duty Officer (LDO).  After completing an overseas tour in Sicily in 1990, he moved to Jacksonville, Florida where he retired from the Center for Naval Aviation Technical Training Unit (CNATTU) as Executive Officer (XO) in 2001.
Awaiting Stacy's retirement, Eric took a position as a Contract Specialist for Naval Facilities Engineering Command (NAVFAC) at NAS Jacksonville, where he wrote government contracts until he retired in December 2018.  Stacy retired from NAVFAC as a Financial Analyst in 2019, and they enjoyed the time of their lives for the next year as they traveled in their RV cross country attending granddaughter's cheer competitions and visiting family and friends.
Mr. Binderim will be interred in Jacksonville National Cemetery with full Military Honors.
Arrangements are under the care of Russell Haven of Rest Cemetery, Funeral Home and Cremation Center, 2335 Sandridge Road, Green Cove Springs, FL  32043.  Family and friends may share their condolences at: www.RHRFH.com 904-284-7720