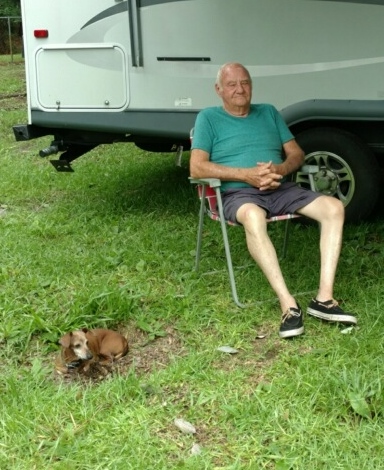 Chief Curtis Derek Wertz, USN (Ret.), 89
Chief Curtis Derek Wertz, USN (Ret.), 89 of Orange Park, FL passed away Thursday, April 18, 2019.  Mr. Wertz was born in Roanoke, VA and was stationed throughout the world while serving in the US Navy but called Florida home for the past 65 years.  Throughout his military career, Chief Wertz served aboard the USS Missouri and USS New Jersey as a navy corpsman with the 1st Division 7th Marines and retired after serving aboard the USS Saratoga in 1968.  After serving his country, Curtis retired again from Johns-Manville in Green Cove Springs, FL.  He enjoyed his family and also enjoyed camping.
Mr. Wertz was preceded in death by his sisters, Mary Esserman and Jean Stoddard; one granddaughter, Amy Wertz;  and is survived by his wife of 65 years, Matilda Wertz, children, Dale (Cherly) Wertz, Rick (Nancy) Wertz, Jeff (Susan) Wertz, Pam (Ed) Cabe and Linda (John) Cheeseman, four brothers, John, Harold, Butch and Bobby Wertz, two sisters, Shirley Miller and Cherry Grimsley, eight grandchildren, five great grandchildren and one great great granddaughter.
Funeral services will be held 2:00pm Thursday, April 25, 2019 in the chapel of Russell Haven of Rest with Rev. Charlie Hunt officiating.  Visitation with the family will be held one hour prior at 1:00pm.  Burial will follow in Russell Haven of Rest Cemetery.
Arrangements are under the care of Russell Haven of Rest Cemetery, Funeral Home and Cremation Center, 2335 Sandridge Road, Green Cove Springs, FL  32043.  Family and friends may share their condolences at: www.RHRFH.com 904-284-7720